---
Our Company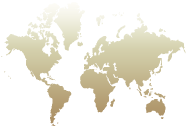 We are the largest privately held spirits company in the world. We produce and market a variety of internationally recognized premium spirits and wines.
Family-owned Bacardi has a presence in more than 170 markets worldwide including the United States, Spain, France, the United Kingdom, Mexico, Germany, Italy, China, Brazil and Russia. The Bacardi brand portfolio includes more than 200 brands and labels including BACARDI® rum, the world's best-selling and most-awarded rum; GREY GOOSE® vodka, the world's leading super-premium vodka; PATRÓN® tequila, the world's highest-quality ultra-premium tequila; DEWAR'S® Blended Scotch whisky, the world's most awarded blended Scotch and the number-one selling premium blended Scotch whisky in the United States; BOMBAY SAPPHIRE® gin, the top-valued premium gin in the world; MARTINI® vermouth and sparkling wines, the world's leading vermouth and the world's favorite Italian sparkling wines; CAZADORES® 100% blue agave tequila, one of the most popular premium tequilas in Mexico and the United States; and other leading and emerging brands including WILLIAM LAWSON'S®, the fastest-growing global Scotch whisky brand; ERISTOFF® vodka, one of the fastest-growing vodka brands in the world; and ST-GERMAIN®, a super-premium elderflower liqueur.
Bacardi has been owned and operated by seven generations of Bacardi family members since Don Facundo Bacardí Massó founded the company in Santiago de Cuba on February 4, 1862.
---
19 August 2019August 2019
Applicant
entreits
What works well?
Following my application, I was quickly called for an interview. The interview went well. The wait was a little longer than expected which I also understand because I was one of the first candidates for the interview. I raised twice and was finally called back to tell myself that my application was...
What could be improved?
Shorten the waiting time or inform candidates
07 February 2020February 2020
Applicant
process too long
What works well?
Questionnaire on the recruitment process what seems to show that they want to improve the process
What could be improved?
I was lucky enough to have a successful profile about 10 days after I applied. I then had a short telephone interview with HR (very nice by the way) followed a few days later by a constructive telephone interview with the person in charge of the position. Unfortunately I didn't hear from you for al...
01 November 2017November 2017
Applicant